The Inclusive Skating Charity has a Board of Trustees and hundreds of volunteers who fulfil many roles.


The Board of Trustees are responsible for the management of Inclusive Skating and the Charity.
Margarita Sweeney-Baird BEM, Founder and Chair of Inclusive Skating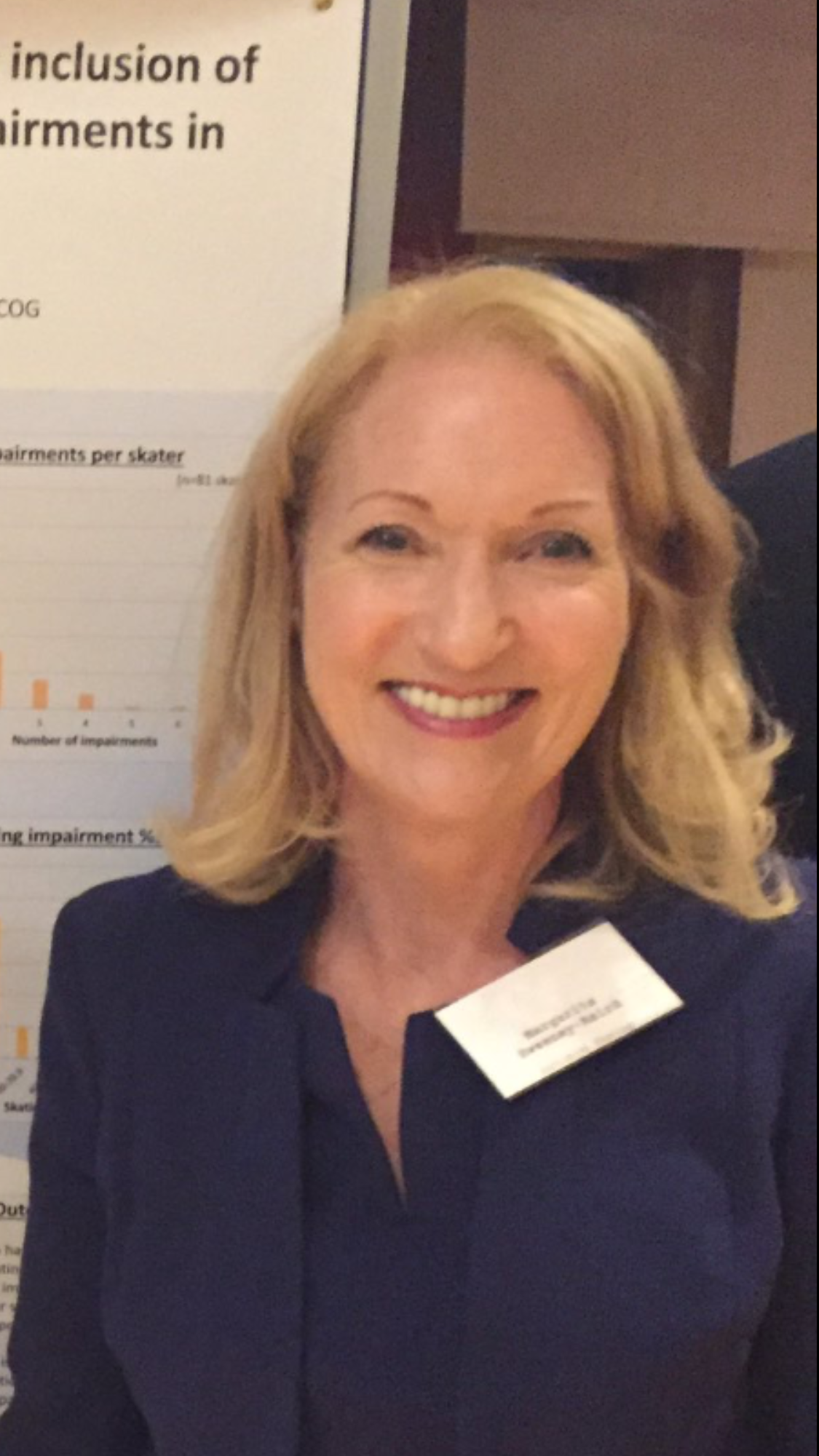 Margarita is the founder and driving force behind the Global Project for Inclusive Skating and the Charity. A former Scottish ladies champion and skating coach in the UK, she originally took a year-long sabbatical from her distinguished legal career to mastermind this project. The sabbatical started in 2010 and was extended because the competition format she created worked better than she could ever have hoped. Margarita is also the mother of Juliana (who is an Inclusive Skater), Christina and Kenny. Another one of her favourite activities is curling! Margarita was awarded the British Empire Medal in the New Year Honours List 2020 for services to skating.
Hannah Lee,
Hannah is the newest and youngest of the Inclusive Skating Charity Trustees. She was appointed to the Board of Trustees in 2016 at the age of 21. Hannah is a superb skater and is now a qualified occupational therapist. She is also a fundraiser and is becoming a key member of the Organising Committee for Inclusive Skating events. Hannah is also an Inclusive Skating Classifier.
Walter Stewart, Treasurer
Walter is a former British Junior Skating Champion and coached many outstanding skaters to Championship level over the years. Walter retired from skating for a few years and since his return has become very active with Inclusive Skating and has trained and qualified as a judge. Walter also helps regularly at the Inclusive Skating club at Braehead.
Perry O'Connor, Secretary
An adult skater, Perry has skated under both ISU and ISI organizations, (she started skating many years ago in New York under the USFSA Learn to Skate Programme) and competed in SkateAsia twice while living in the Middle East. Her husband and three children also all skate and have taken part as a family in numerous shows and events in the Middle East. Back home in Ireland, she is a a judge for the ISAI.
Perry is helping to lead the project in Ireland. This has been with great success as Ireland piloted the system and Ireland has already included the Rondinelli scale in its test rules. An Irish skater has already used the Inclusive Skating format in a national ice skating test. As a parent of an Inclusive Skater, Perry understands first-hand the difficulties and restrictions imposed on skaters with challenges skating without the Inclusive Skating marking system.
Gordon Struthers
Gordon is one of the Inclusive Skating Charity Trustees. Gordon specialises in digital technology and is an independent member of the Board.