Adaptive equipment is available in many countries across the world. Here's some suggestions for you. Always undertake your own risk assessment of the equipment for you and your needs as we cannot provide any assurances, warranties or guarantees.
Always follow the Inclusive Skating Safety Policy and any additional requirements and advice from your coach, rink, product supplier, medical team and your risk assessment. Most Inclusive Skaters require products that meet their own particular needs and an individual assessment for this purpose. We make no recommendations for any individual or for any produce and the following is for information only. Always obtain professional advice on your individual circumstances.
Here are some suggestions of products for you to consider, indications of price and reflections on our experience so far:
1. Balance Aid - The TykeSkater from Finland. http://www.tykeskater.com/product/
This product is designed for the ice and an accessories pack with additional elbow support, handle extenders and wheels for off ice use. This product has the advantage of being adjustable for height and folds flat for easy storage. The additional handles are useful for guiding the visually impaired and the deaf blind.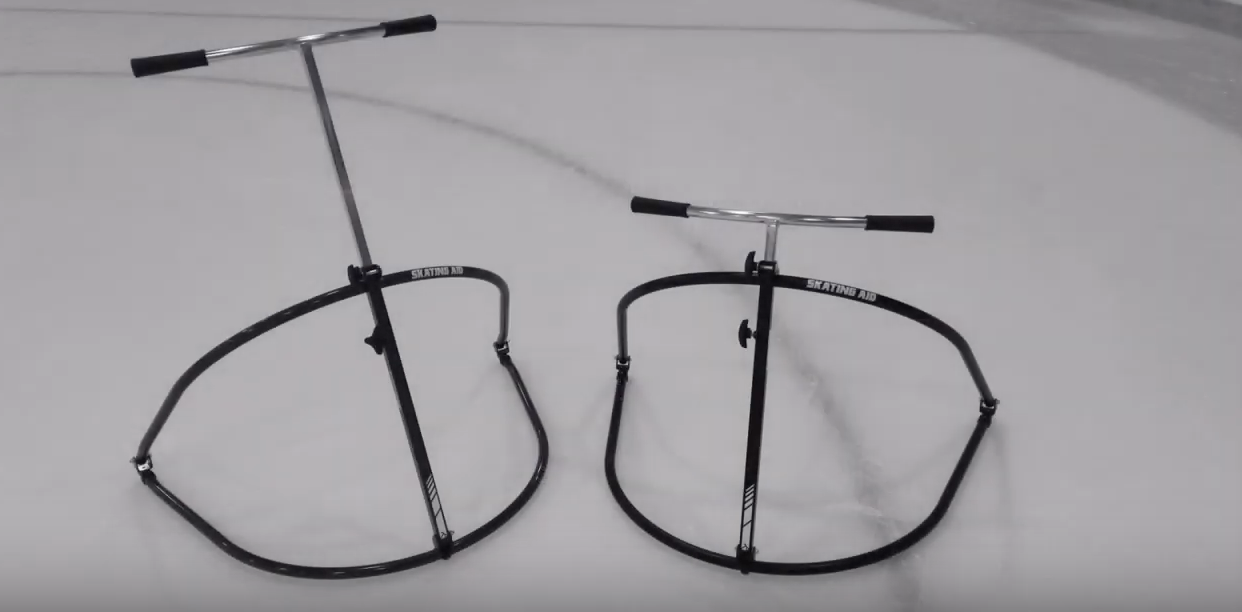 The accessories pack prototype is available and is expected to go into production in the autumn of 2019. The company that sells this product is Tukimet Oy and they sell this product through the EU via an online shop.
2. Gliding Stars Products
Gliding Stars is based in the US and they have a range of products available from their on line shop. These include orthotic skates, skates for pronation and various levels of balance aid. http://www.glidingstars.org/ The advanced balance aids require training before they can be purchased. Here's the orthotic skates that are particularly useful for people challenged by cerebral palsy, spina bifida or other physical challenges. This skate has 21 individual modifications from a basic figure skate, most notably a widened heel pocket and extra ankle wrap to reach around the orthosis. The heel has also been substantially reduced to enhance Achilles tendon stretch and match the flat bottom and correct angle of the orthotics. Sizes range from US child 7 to Adult 9, and this model runs much larger than traditional shoe sizing. Gliding stars is a not for profit and they provide useful ordering and sizing guidance.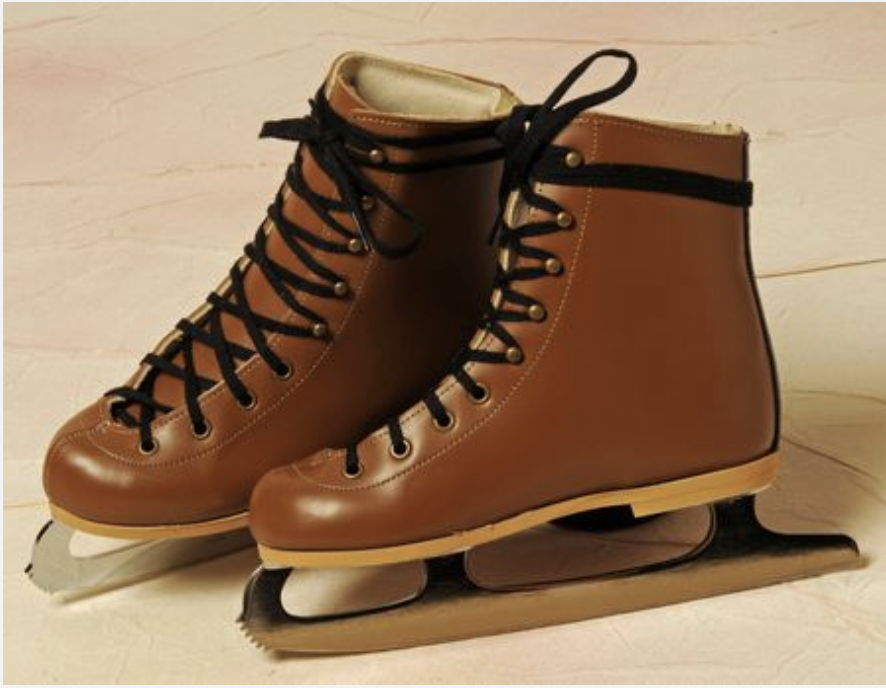 3. Off-Ice Skates and additional resources for skating
In line skates are useful for Inclusive skaters who often find access to ice time difficult. Off-Ice skates are based in the UK and has an online shop that also provides beginner ice skates, a range of off ice skates and additional resources and protective gear. http://www.off-iceskates.com/shop International sales are available too.
4. Reidell Skates
Reidell Skates are based in the US and they provide custom fit boots for those with additional needs. Their order form is available in the related resources below. Here's an example of custom boots provided by Reidell with supports built into the boot. The skater's medical team helped with the impressions and the foot impressions and supports were sent to Reidell with the order form and the measurements of the skater's foot.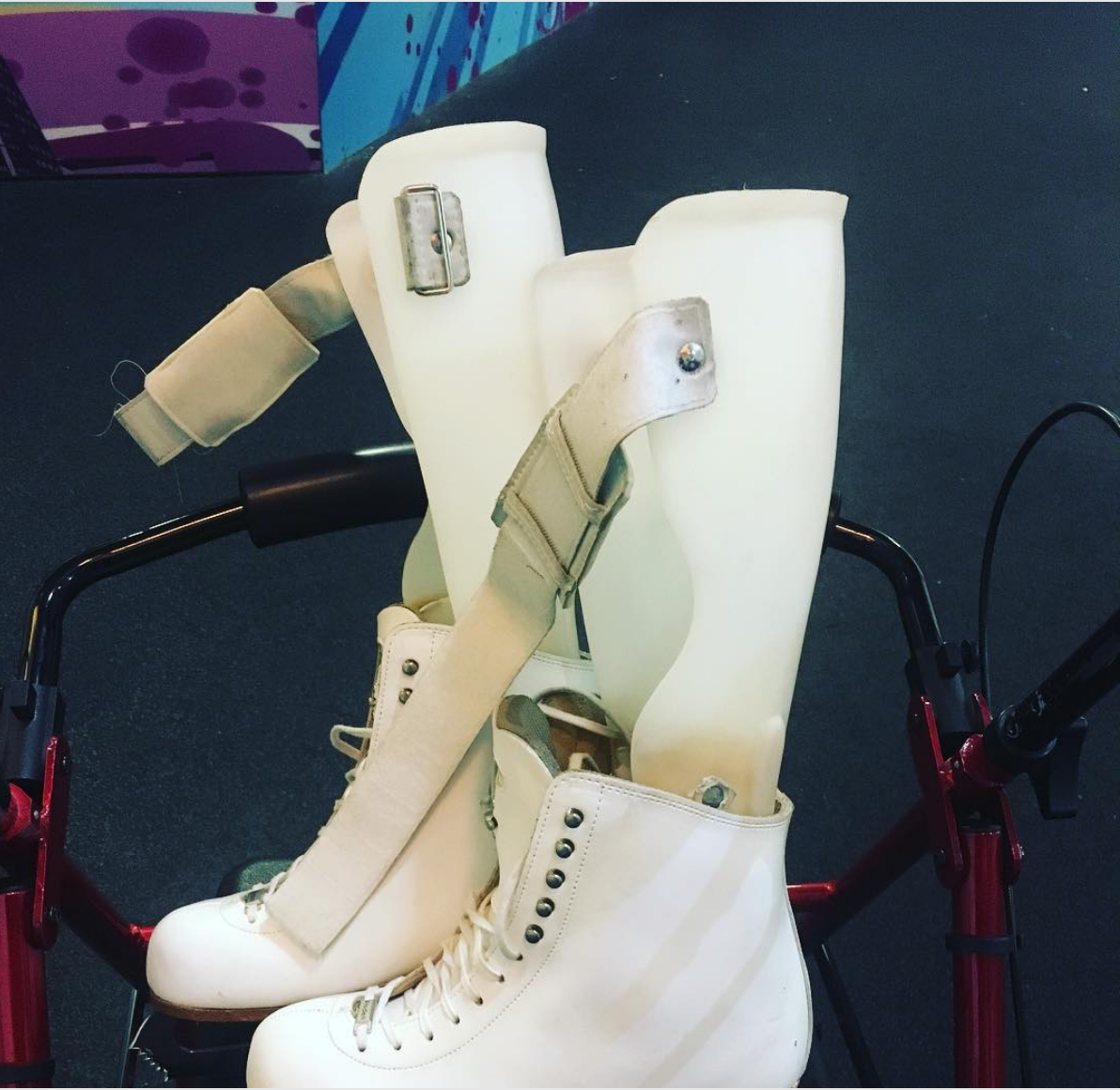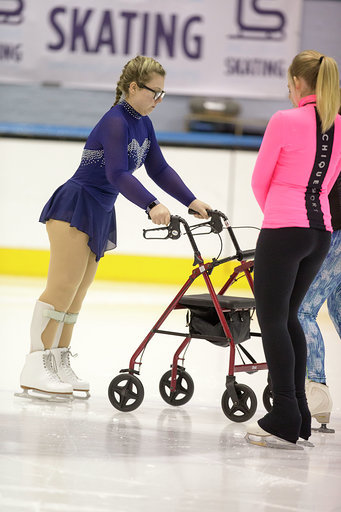 5. The Leckey MyWay walker is available in the UK and has many distributors across the globe. A single frame is available but that can be used with multiple harnesses. The frames come in three sizes. The harnesses are interchangeable between person and are colour coded for size. Leckey representatives will come to the rink to do free assessments too. It comes with a pommel seat and handles for the person using the walker. Leckey also supply the Kidwalk (see below).
https://www.leckey.com/products/myway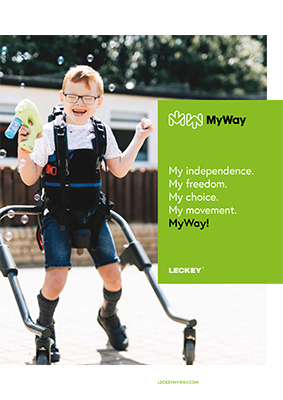 6. The KidWalk is available in the US and is not currently available for direct international orders but it is available from Leckey in the UK (See above). This has been used for ice skating activities. This is bespoke product for use by one child only. Priced on October 1st 2019 at $2,300. It is manufactured in the US by Prime Engineering. https://primeengineering.com/gait-trainers/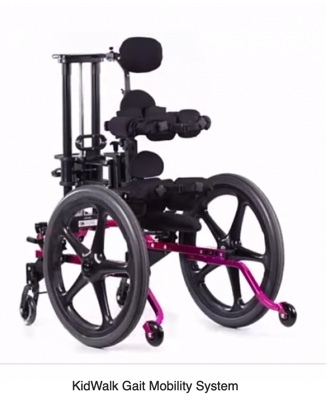 7. Protective Gear is readily available from high street stores and online. Specialist suppliers provide an Ice Halo which is a form of light weight head protection. This is available directly from Ice Halo in Canada or from Skate Safe in the UK. The Ice Halo is available in a range of sizes and styles and there's even a soft helmet too.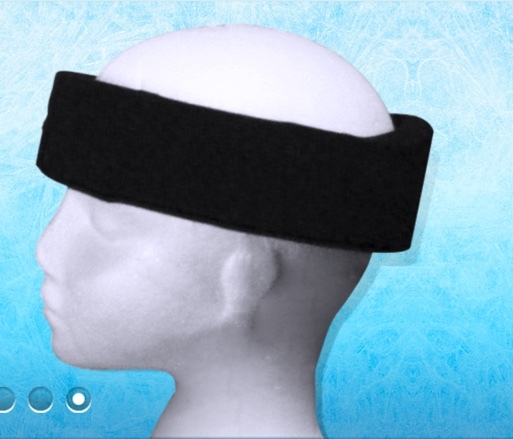 Skate Safe also provide a range of protective gear for all skating activities too.
8. SkateABLE in Canada
SkateABLE have an adaptive ice skating program available throughout Canada that was founded by Lisa Himmelman.
SkateABLE currently have adaptive ice walkers available for purchase. The standard model walker is great for beginner skaters. It is extremely stable and will not collapse or tip over on the ice. The lightweight material makes the walkers easy to push along for skaters of all ages and abilities. The walkers will never collapse as they have a locking mechanism while in use, and they fold up conveniently for storage. Lisa Himmelman, the Founder of SkateABLE says, "The walkers are fantastic for children with any sort of disability that needs an extra element of support and safety when learning to take their first steps toward independence on the ice."
The walkers are available in small (21" -28" great for small children) and medium (35" perfect for youth and young adults up to 5'9"sizes. SkateABLE are selling these for $300 Canadian Dollars each, plus shipping as at February 2020 and subject to availability.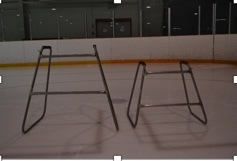 SkateABLE also have a supply of harnesses for disabled children, as well as skates which accommodate AFOs and other foot orthotics.
SkateABLE can be contacted through the contact form on their website. https://skateablecanada.com/contact-us
They have more information available on their website about SkateABLE adaptive courses available throughout Canada. These can be purchased on line too. See: www.skateablecanada.com
9. In-line Skates for Active Travel - an information guide from a keen in-line skater!
The key difference between these active travel skates and in-line skates is the existence of the top stopper at the front.
Here is an example of the type of tri-skate that's probably best suited to active travel. The wheel diameters range from 90mm which feel just like the traditional four wheeled inline with around 80mm wheels to 125mm which is used mainly by speed skaters and is currently the largest wheel allowed in competition. The 100mm wheels provide the best all round agility, speed and ability to roll over obstructions and they smooth out rough surfaces.

Unified skaters may have no problem at all using four wheeled inlines on cycle paths but you are limited to smoother surfaces. Skating in the larger wheels is a little different but many who already skates may get used to them very quickly.

https://www.slickwillies.co.uk/powerslide-zoom-pro-100-inline-skates.html

For anyone feeling a little more adventurous here's an example of the current off road version for skating on mountain bike trails. They're not recommended for smooth surfaces due to the sticky pneumatic tyres although the frames can be swapped for the type that polyurethane wheels can be mounted on so you don't have to buy two pairs of skates.

https://www.skatepro.uk/122-28432.htm