Virtual Worlds 2021 a roaring success!
Inclusive Skating Virtual World Championships 2021- A Roaring Success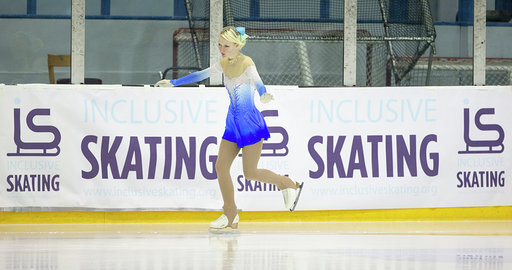 Inclusive Skating has successfully conducted the first Virtual World Championships. This truly global championships had participation from 12 countries including Australia, Bulgaria, Czech, England, Ireland, Northern Ireland, Russia, UAE, Scotland, Sweden, Switzerland, the United States of America, and Wales. The event was conducted entirely via video submission and remote judging and builds on the success of the first Inclusive Skating Virtual Events developed during lockdown.
There has been a dramatic increase in the number of participants with around 100 skaters participating in over 180 events in singles, pairs, ice-dance, figures, synchro, compulsory elements, and free-skating elements. There was excellent skating across all of the disciplines. Skaters also delighted our judges in the off-ice events which included inline skating for the first time and off-skate events.
Inclusive Skating is proud of all our skater's efforts and improvements, especially as many have had limited training due to the ongoing COVID-19 pandemic. We are thrilled to offer our community access to events and competition opportunities via this virtual format and hope to continue offering new methods of accessibility to the sport in the future. This event was listed on the International Skating Union's calendar of events and Inclusive Skating has firmly established this event on the global skating calendar!
To watch the action from this exciting event please see the Inclusive Skating YouTube Playlist.
To view the results from the event please visit the results page.
https://inclusiveskating.org/resource-centre/competitions/results
Notes to editors
Contact
Margarita Sweeney-Baird Founder and Board Chair of Inclusive Skating
+44-(0)7813 993 237 margarita@inclusiveskating.org
Inclusive Skating is a world-recognised charity that provides events, activities, educational resources, training and championship events for skaters with additional needs. The goal of this global project is to create training and competition pathways for skaters with any form of disability. Our goal is to further develop the programme in every rink across the world and will allow skaters with additional needs to participate in all competitions, events and activities on an equal basis. www.inclusiveskating.org
International Skating Union is the exclusive international sport federation recognized by the International Olympic Committee (IOC) administering sports in the branches of Figure Skating and Speed Skating throughout the world. www.isu.org
< Back to All News